We use the SP40plus in university hospitals, medium-sized and smaller hospitals, as well as in doctors' surgeries and medical care centres.
Secure paper handling with the SP40plus dot matrix printer
The SP40plus forms printer is particularly suitable for the hectic and busy environment of outpatient clinics and doctors' surgeries, as it handles the receipts very securely. The automatic alignment of the prescription, the accurate edge detection, and the automatic continuous paper thickness adjustment are the outstanding and most important features of the dot matrix printer for the staff. No matter where and at what angle the receipts are fed, the form is aligned quickly and straight, the margin is always detected accurately and the receipt is printed correctly. Take a look at our videos! We show you how it works!
Environmentally friendly and low maintenance
The SP40plus dot matrix printer does its part to reduce environmental impact by, for example, turning off the display panel when not in use, reducing standby power consumption to less than 3.5 watts. The environment and users alike will enjoy long-lasting consumables such as the 10-million-character ribbon and the print head, which is top of the line with a 400-million-character lifetime. Thanks to the robust and durable construction and the low-maintenance concept, as well as the reduction in material consumption, the recipe printer is very resource-friendly.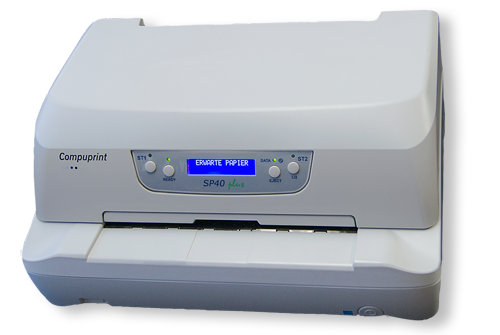 Communicative without borders
The SP40plus prescription printer has all common interfaces and comes with certified drivers for Windows 2000 - Windows 10 (32 & 64 bit) incl. Server 2012 - signed, as well as Linux (Ubuntu). It can emulate numerous printers (EPSON LQ2550/1170 (LQ 570), Olivetti PR2/PR40plus/PR2845, Wincor HPR 4915 IBM: Personal Printer 2390+, Proprinter XL24 (AGM), 4722, 9068, Unisys EFP) and thus replace another printer at any time without having to replace the entire printer fleet. With Epson compatibility, the dot matrix printer is particularly suitable for use in the healthcare sector.
Quick commissioning
Mark your desired settings on the printed configuration sheet and feed the configuration created in this way to the printer (see video!). The SP40plus matrix printer scans the sheet, acknowledges your changes with a mark and is ready with the desired changes after a restart. With this configuration printout you can set up as many recipe printers as you like, simply feed the sheet in the printer's configuration mode - restart - done! So put the configuration sheet aside for the next purchase of an SP40plus.

Alternatively, use the REMOTE-SETUP-TOOL from our download area. The version of the SP40plus recipe printer with LAN connection can also be configured via browser.

For LAN units, configuration is also possible via a web browser.